I am a disabled USAF veteran and a descendant of Lakota heritage.
I am an artist of mandellas, dreamcatchers and jewelry, as well as wire work jewelry and leatherwork.
I create all my artwork and jewelry in a smoke-free environment. Everything is created with an eye on quality handmade craftsmanship.
Most of my work is one of a kind in nature. I take a lot of care in creating a piece you will be proud of owning.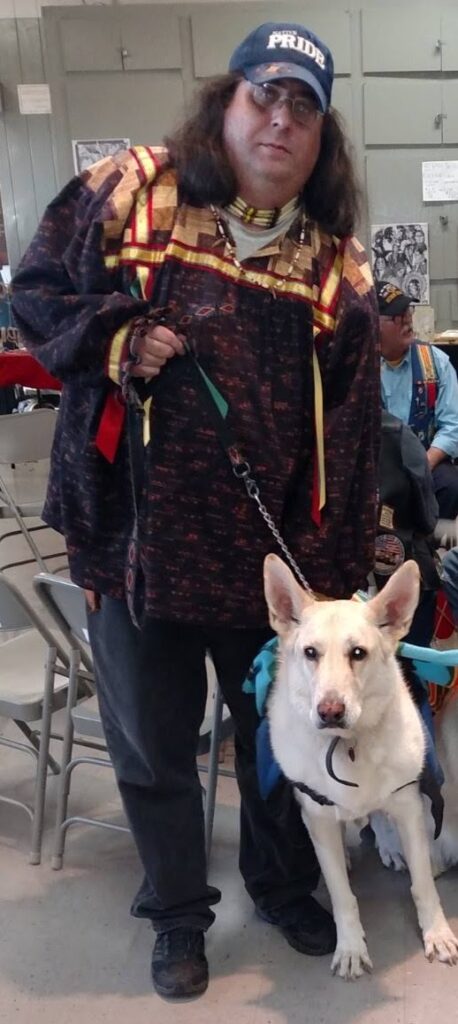 From an article in the Minneapolis Talent Magazine:
Anthony Matzke, a disabled USAF veteran, is an artist of Native American-style wall hangings and beadwork from Rochester, MN. Drawing on the ancient traditions of Native American culture and art (especially Lakota), he creates artwork and jewelry that is a mix of traditional and contemporary styles. Anthony specializes in shield mandellas, dream catchers and chokers as well as earrings and barrettes.
As a board member of the Native American Center of Southeast Minnesota (NAC), Anthony spends much volunteer time marketing, researching grant sources for the group and helping to problem solve to achieve the Center's goals.
Anthony first started beading as a supplement for his rehabilitation for problems incurred during training in the Air Force. From there, he has gone on to learn more challenging projects, stretching both his skills and knowledge of the Native arts and culture. He also does loom beading and applique beading using glass beads, and making traditional hairpipe chokers, once used by warriors for throat protection, in addition to the mandellas he produces. A Choctaw friend encouraged him to take up beading in 2004 as a way to keep up his fine motor skills in his left hand
Pow-wows, the annual NAC Expo other Native and Festival events is where Anthony shows his work. He was also an active member of the Austin Area Art Center, participating in all the Starving Artist Sales and Art Walks as well as utilizing his opportunity to show his art in their gallery. His art pieces have been sent as far away as New York, Pennsylvania for pow-wow sales. He has also sold many pieces to South Dakota, Canada and New Mexico from his website www.traditionaltwists.com. He has also been juried into Artigras 2012, 2007 Fiber and Finery IV Art Show in Crossings Art Gallery in Zumbrota, MN, and had a solo exhibit at the Paradise Center for the Arts in Faribault, MN in 2015.
For four years he has taught as a volunteer about his art to third through sixth grade students at the Olmsted History Center in Rochester and Minnesota and Girl Scouts for the Native American Center of Southeast Minnesota.000